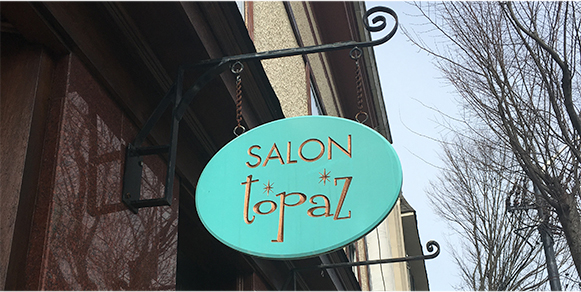 Award-winning salon since 2006.
Founded in 2006, Salon Topaz is a luxury full-service hair salon located in the charming
Rivertown of Dobbs Ferry, in Westchester County. We are a multi-award winning,
environmentally conscious salon that offers a holistic approach to hair care. Our welcoming and relaxing atmosphere, combined with exceptional services from our talented stylists, is what makes us stand out.
We are a clean air salon producing zero toxic fumes and a proud member of GreenCircle recycling. Our guests also have the option of open-air services in our tranquil
outdoor area. At Salon Topaz, it is our mission to educate our guests on the importance of a clean and effective beauty regimen while in a healthy and uplifting environment. We believe in kindness and care toward you and your hair and look forward to giving just that back to you.
Our Mission Statement
A space where our creative team nurtures you from the inside out, crafting effortless beauty in a warm, inviting, and healthy environment.
Awards
 Best Female Hair Salon Business Owner (New York): 
Lisa DeMaria "2020 Influential Businesswoman Awards
Winner Best Hair Salon 2020 "Lux Life Magazine"
Best of Westchester County 2019 Winner "Masters & Powers Inc.
Voted Best Eco-Friendly Salon "Westchester Magazine" 2018
13 Sensational Salons "Westchester Magazine" 2017
Top-Rated online "Demandforce" 2017
Spectrum Award for Excellence in Customer Satisfaction
"City Beat News" 2016, 2017, 2018, 2019, 2020 & 2021
"Best of 2014, 2015, 2016, 2017, 2018, 2019, 2020, 2021, & 2022 Dobbs Ferry"
"A Cut Above" 15 Great Salons "Westchester Magazine" 2011
Voted Best of Westchester Salon "Westchester Magazine"
2007, 2008, 2010, 2018, & 2020