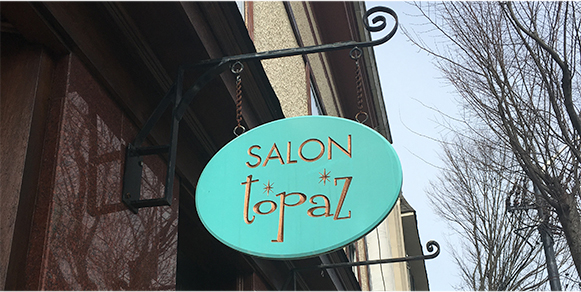 Award-winning salon since 2006.

Salon Topaz, a distinguished and acclaimed salon, has been a beacon of excellence since its establishment in 2006. Situated in the picturesque Rivertown of Dobbs Ferry, Westchester County, our luxury full-service hair salon exudes sophistication. Embracing a holistic approach to hair care, we take immense pride in being environmentally conscious, earning us multiple prestigious awards.
As you step into our haven, you'll be greeted by a warm and inviting atmosphere, a testament to our dedication to creating a relaxing environment. Our team of talented stylists is committed to delivering exceptional services, ensuring that each guest receives an unforgettable experience.
At Salon Topaz, we go above and beyond to minimize our ecological footprint. As a clean air salon, we eliminate toxic fumes, safeguarding the well-being of our clients and staff. Proudly affiliated with GreenCircle recycling, we actively participate in sustainable practices.
Seeking to provide a unique and refreshing experience, we offer the option of open-air services in our serene outdoor area, allowing you to unwind amidst nature's tranquility.
Central to our values is the belief in educating our guests about the significance of maintaining a clean and effective beauty regimen within a nurturing and uplifting environment. At Salon Topaz, kindness and care are at the core of our philosophy, aiming to give back to you and your hair the utmost attention and affection.
Mission Statement:
Our mission is to be a sanctuary where our creative team nurtures you from the inside out, crafting effortless beauty in a warm, inviting, and healthy setting. We strive to foster a space where beauty and wellness harmoniously coexist, leaving you feeling revitalized and inspired.
AWARDS
Best Female Hair Salon Business Owner (New York):
Lisa DeMaria "2020 Influential Businesswoman Awards
Winner Best Hair Salon 2020 "Lux Life Magazine"
Best of Westchester County 2019 & 2023 Winner "Masters & Powers Inc.
Voted Best Eco-Friendly Salon "Westchester Magazine" 2018
13 Sensational Salons "Westchester Magazine" 2017
Top-Rated online "Demandforce" 2017
Spectrum Award for Excellence in Customer Satisfaction
"City Beat News" 2016, 2017, 2018, 2019, 2020, 2021, 2022 &2023
"Best of 2014, 2015, 2016, 2017, 2018, 2019, 2020, 2021, 2022 & 2023 Dobbs Ferry"
"A Cut Above" 15 Great Salons "Westchester Magazine" 2011
Voted Best of Westchester Salon "Westchester Magazine"
2007, 2008, 2010, 2018, & 2020